November 1, 2020
GRAD GAB!
This past Friday, many of our Grade 12 students participated in the Pumpkin Carving Contest, as part of our Spirit Week activities and sponsored by Mr. Rowe and the Grad Committee .  See below for some of the creative jack-o-lanterns our Grads came up with!

REMINDER: 

BC Excellence Scholarship – Students who want to be considered for this, please fill out the nomination form and submit to the Main Office by November 30.  Schools are only allowed to make one nomination. .  Below is the link for the nomination form:

REMINDER: 

DO I BUY A DRESS/TUX FOR GRAD??? – We have has some phone calls from parents asking this question…  Our answer is that if you are buying something specifically for the Grad Banquet, then you are probably better off waiting, as the rules limiting group gatherings to only 50 still exist.  As long as this rule still exists, then venues cannot host a Grad Banquet.  

REMINDER: 

GRAD PHOTO WEEK! – For grade 12s, Grad Portrait Week will be February 22-27, 2021 – Be sure to "Save the Date!"
LSS SPIRIT WEEK!
This past week, Leadership students challenged LSS to show its school spirit with a daily theme… and LSS students and staff responded in a big way!  See below for some of the ways LSS participated in each theme day, and showed that we can adapt to the current reality by ensuring that we remain engaged and connected to our school culture!

We rocked those comfy cozy PJ's on Monday… yes, students and staff got comfortable with their pyjamas and some hot chocolate!
Are we seeing double, or was this past Tuesday Twin Day at LSS?! See the photos below… and we can let you decide!
Wednesday was Colour Day, as grades had different colours assigned to them, while LSS staff wore pink… so, which group "represented" best? See below to form your opinion!
This past Thursday, LSS was in a time warp as we searched through our closets for remnants from the past on Throwback Thursday!  See below for who LSS became the 1960, 70s, 80s, 90s, 2000s, and 2010s, all on the same day!
All week was door-decorating at LSS, with some some very creative and very spooky scenes revealed this past Friday!
HALLOWE'EN COSTUMES AT LSS
If you thought there were already a tonne of photos above for Spirit Week, wait until you see the photos below with LSS students and staff having some fun on Friday!  While there were many different costumes, see if you can figure out what the staff theme was!
DROP EVERYTHING AND READ AT LSS!
This past Monday a number of our teachers and students celebrated Drop Everything and Read (D.E.A.R.), a day dedicated to spending at least 20 minutes of school time in reading for the sheer pleasure of it. The benefits of reading are manifold, not only for literacy and improvement in learning in a general sense, but also in the realm of wellness, social emotional learning and brain health. The infographic below lists just a few of the benefits of reading. We encourage you and your teens to find a way to get more reading into your life. You won't regret it!
14 Ways Reading Improves Your Mind and Body – Electric Literature

Electric Literature is a 501(c)(3) non-profit organization founded in 2009. Our mission is to amplify the power of storytelling with digital innovation, and to ensure that literature remains a vibrant presence in popular culture by supporting writers, embracing new technologies, and building community to broaden the audience for literature.
NOMINATE AN LSS EDUCATOR!
The Langley Advance Times is highlighting the efforts of seven local educators who go "Above and Beyond" in an upcoming special publication. The paper is looking for anyone involved in education in Langley – teachers, administrators, education assistants, Aboriginal support workers, coaches, club leaders, custodial staff, bus drivers – who have made a big difference for Langley students during the pandemic. Each person selected will be the subject of a feature article and photo in an upcoming publication. To nominate someone, email contests@langleyadvancetimes.com and submit up to 250 words explaining why the person you are nominating deserves to be featured. Please include your contact information so staff at the paper can follow up with you and reach out to your nominee. A small committee at the Langley Advance Times will be making decisions, so there is a November 13th (5 pm) deadline for nominations.
REMINDER: REMEMBRANCE DAY CHANGE
It is a long-standing tradition for schools to support our veterans and the efforts of the Royal Canadian Legion. Due to our COVID-19 health and safety guidelines, the distribution and collection of funds for poppies will be different. Please note that our school will be receiving a poppy for every student. We will be distributing them to classes in a safe manner. We will continue to collect funds this year in support of the Legion's Poppy Campaign. but kindly ask students and their families to donate online via School Cash Online: https://sd35.schoolcashonline.com/
Please do not send any cash or cheques with your child to school. We appreciate your generosity. As always, our school is committed to educating our community about the meaning of the poppy and Remembrance Day.
COVID-19 – RESOURCES TO OVERCOME HARDSHIPS
REMINDER: 

Family & Community Support Webpage

District and school staff are continuing to provide support for our families during this challenging time. The District website has a new Family & Community Support page to help parents/guardians cope with the impacts of COVID-19. This page includes links to resources including a comprehensive guide developed by the Langley Children Committee, containing health, housing, and financial support information. On this page you will also find a new weekly blog launched by Gail Markin, who is our District Teacher for Social Emotional Learning. She will be covering a new health and wellness topic every time. Thank you to our community partners for their ongoing support. Visit the page here
PHOTOS OF THE WEEK!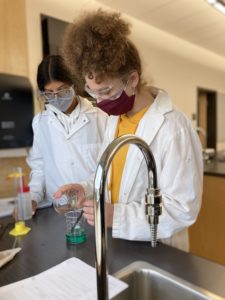 Ms. Matthai's chemistry 11 engaged in a lab this past week. Students explored moles, and its related calculation…
DISTRICT & COMMUNITY NEWS
Pregnant and Parenting Youth – Please click on the attachment for the November 2020 calendar: PPY November 2020
Information About School Status During Inclement Weather

Snow closures and power outages are an annual occurrence in Langley School District. So, where do you go to get information about the status of schools during periods of inclement weather? If you are able to access the internet via computer or smartphone, current information about Langley schools can be accessed on all school websites or www.sd35.bc.ca. Updates are also posted to Twitter @LangleySchools and Facebook at www.facebook.com/langleyschooldistrict. If you don't have internet connectivity but your phone is working, call a relative or friend in an area that has not been affected by the storm and ask them to check the district website for you. Local radio stations are also informed of school status in Langley. Tune in to CKWX 1130AM, CKNW 980AM, Country Radio 107.1FM, Pulse 107.7 or CBC 690AM or 88.1FM for updates.
Please note that Langley District schools are all considered 'open' until a decision to close is required. Decisions on school closures are usually made by 6:30am. As always, it is a parent's decision whether to send their child to school based on safety and individual circumstances. If you feel it is unsafe for you or your child to travel to or attend an open school for any reason, please keep your child home and report an absence to the school.

Community Bulletin Board – SD#35 Langley: 

To find out more about the different community events happening in our District, consider making it a habit to go to the District's website, and you will certainly be in the know! 

https://www.sd35.bc.ca/news-events/community-bulletin-board/
CALENDAR 
Nov 2-6 – Provincial Grade 10 Literacy and Numeracy Assessments
Nov 3 – Mood Walk – Brae Island Regional Park
Nov 4-6 – Aboriginal Leaders Conference
Nov 13 – World Kindness Day
Nov 17 – Last Day of Quarter 1
Nov 18 – Design and Assessment Day – Students NOT in Session
Nov 19 – First Day of Quarter 2
Nov 23 – PAC Meeting, 7 pm, Library Learning Commons
Nov 25 – Quarter 1 Final Report Cards Issued
Jan 25 – PAC Meeting, 7 pm, Library Learning Commons
Feb 22 – PAC Meeting, 7 pm, Library Learning Commons
Feb 22-27 – Grad Portrait Week
Apr 19 – PAC Meeting, 7 pm, Library Learning Commons
May 17 – PAC Meeting and AGM, 7 pm, Library Learning Commons
June 16 – LSS Grad Ceremony, Tentatively Booked at CLA, 7 pm
June 29 – Final Report Cards Issued